Chandrawati Ram, Nepal
Raising public awareness of health risks can help change community behaviour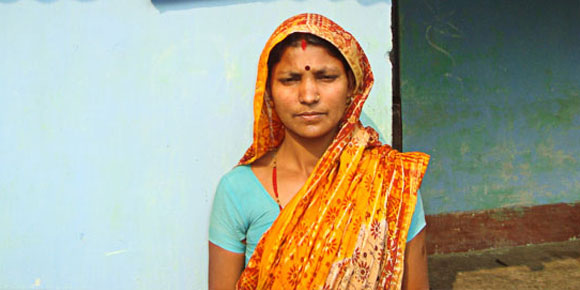 Chandrawati Ram is cool under pressure, and refuses to panic. Although she's received no formal education, the level-headed 28-year-old is helping save children's lives as a skilled birth attendant
More about this health hero

When Ritudevi Ram's labour contractions started growing stronger, her husband Pawan got ready to take her to the hospital. But, before they could leave, Ritudevi had the baby at home in the village of Harinagara in Nepal's Sunsari District . A woman from the neighbourhood helped deliver it. The delivery was easy, but Ritudevi heard no soft intake of air, no cry. The baby was not breathing. Ritudevi and Pawan were in distress; they didn't know what to do. They thought their baby was going to die.

Fortunately for the couple, Chandrawati Ram, a trained female community health worker, was on hand. She knew that if a baby didn't breath for seven or eight minutes, it would die. But she didn't panic. Not wasting a minute, she took a warm dry cloth and wiped the newborn's back and then massaged the baby. But the baby didn't breathe. Chandrawati then carefully wiped the mucus from his mouth. Still, he did not breathe. Next she used a suction bulb to remove the snot from his nose. No response. Time was ticking and things were looking grim. Looking at their motionless child, Ritudevi and Pawan crossed their fingers in hope, scarcely daring to breathe.

Running out of options, Chandrawati took a resuscitating mask and bag from her kit and put it over the baby's face. Then, just as she'd learned in training, she began pumping the mask speedily, filling the baby's lungs with air. All three adults held their breaths in anticipation. In seconds, they heard the baby's soft intake of breath - in, out. He had started to breathe.

Chandrawati smiled. The Rams were overjoyed. With tears brimming in their eyes, the couple thanked Chandrawati with all their heart.

This is just one of the stories 28-year-old Chandrawati has to tell. From a Dalit family, Chandrawati never got the opportunity to go to school, but since she was very young she has wanted to be a social worker. For the past six years she has been helping her local community as a skilled birth attendant, and, she says, serving pregnant mothers and their newborns makes her extremely happy. Chandrawati is happy to develop her skills and knowledge through regular training, such as the week-long course organised by Plan Nepal with the District Public Health, Sunsari.

Once she was certified, Chandrawati returned to her village and dove straight in at the deep end, putting her skills to good use helping mothers deliver their babies safely. But her work doesn't stop there. With institutional birthing not part of local culture, the vast majority of expectant mothers previously opted for home births. But, after Chandrawati started educating the women and raising awareness of the risks involved, more and more families began taking the mothers-to-be to the hospital at the first signs of labour. It's partly thanks to her assistance and the subsequent change in behaviour that the death rate among newborns in the area has plummeted.

Understandably, Chandrawati is extremely happy that, thanks to her training, she is able to save the lives of newborns. She says, "If Plan and the district health office had not held this training, I would never have been able to do such vital work." If Chandrawati didn't do what she does, many newborns would face death. Today, thanks to one 28-year-old woman, the prospect isn't quite so bleak.