Filifing Sidibe, Mali
Helping mothers and their children in rural Mali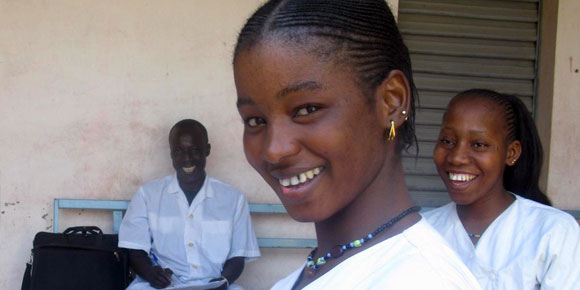 Filifing Sidibe works as a midwife in a clinic in her home village of Dafela, outside the city of Kita in western Mali. Growing up, Filifing always dreamed of becoming a midwife and helping others.

Growing up in Dafela, a community with a high child mortality rate, can represent an accomplishment just by sheer survival. Opportunities are hard to come by, and poverty is extreme.

Filifing was a Plan sponsored child – something which helped to provide for her basic schooling as well as improved facilities for all children in the village, including clean water, health care, and a safe school environment. Filifing's sponsor encouraged her to pursue her dream of becoming a midwife through education.

With a solid education base behind her, Filifing was able to attend and complete a one-year program to become a midwife. After she graduated, Filifing decided to return to her local community, profoundly concerned about the precarious health situation facing mothers and their children in the area.

Despite the construction of a health center in the village, there was a lack of trained medical staff and the suffering of mothers and their children continued. Filifing, who strongly believes in the nobility of a career as a health worker, was determined to help the women in her community who had to travel long distances to seek treatment in the city. "When I graduated as a matron a year ago, the duty hailed me to come and care for my parents in my community," she says.

In Mali the problem of child mortality is alarming. For every 1000 births, 196 children die before their fifth birthday. Low household income and problems with health, education and access to drinking water all contribute to high mortality rates.

But Filifing is doing her bit to change this. After her first year as a midwife, she has helped to deliver 22 babies and cared for hundreds of children. For many of her patients, her support and knowledge during childbirth is extremely comforting. And she has won praise from her more senior counterparts at the clinic, including Dr Maiga. "Filifing has greatly improved the performance of our team through her close follow-up and treatment of patients. The community also entrusted her with the management of the pharmacy," he explains. "I think she has a promising career."

Despite of her young age, Filifing is already meticulously planning for a better position and better life. "I want to study for two years in obstetrics to have the same diploma as my doctor," she says.

The clinic in Dafela reflects the poverty of the community, lacking many things, but it now has the enthusiasm and concern of Filifing. The community in turn is proud that one of their own now holds a position of such responsibility.

Filifing is a Health Hero. Show your support.