Firoza, Bangladesh
Community health workers facilitate access to primary health care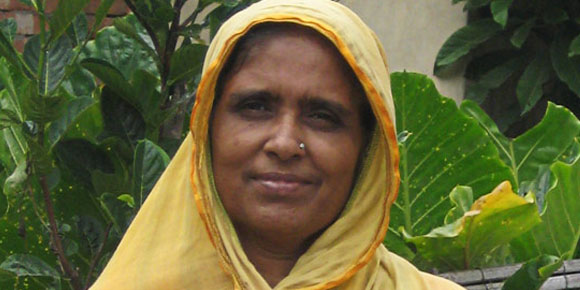 Firoza has been providing a helping hand to families in her slum for years, and now works with expectant and new mothers as a trained birth attendant. She never gets tired of it; quite the opposite – she wants to leave her mark and leave her good work for the world.
More about this health hero

Firoza's face is familiar in the settled slum of Bawniabadh, where she lives with her family. Her contribution to improving the health of children and their mothers has certainly not gone unnoticed in her community. It's hardly surprising: for almost two decades she has been working with her family and neighbours, educating them about their health. Then, in 1998, when Plan started working in her community, Firoza became a member of the community development forum, before being appointed chair of the health committee.

For over 10 years, Firoza has been working in her community as a trained birth attendant after receiving training in safe delivery from a Plan project. From identifying pregnant mothers to providing advice on prenatal and postnatal care, counselling about breast feeding and taking primary care for their newborn babies, Firoza is on hand when these women need her most.

With encouragement from her husband, 54-year-old Firoza attends almost all the deliveries in her community. When the call comes, Firoza rushes to the scene. In critical cases, she doesn't hesitate to refer it on to the local hospital, but that doesn't mean the end of her role – she also accompanies the women, all too aware that the situation demands her skills and experience. "I know they have no knowledge and anything may happen on the way to the hospital," she says.

She's talking from personal experience. In one case, Firoza had to take the reins of a difficult birth in the back of a taxi, after they had been turned away from the local hospital and worried the wait to be admitted to the government hospital would risk both mother and baby's lives. She pulled off a safe delivery. Today, the child is going to primary school.

Firoza loves her work and she loves the people she works with, which means she never gets tired of the work she does for her friends and neighbours. The mother of four feels the suffering of poor mothers, and wants to make sure other women other women have the same opportunity to make a difference as she herself has had. Firoza, a contented and happy health worker, is now training other members of her community, and hopes they will carry on her torch. "I want to leave this good work to the world," she says.