Hean Lang, Cambodia
It takes commitment and willingness to improve the health conditions of poor and vulnerable populations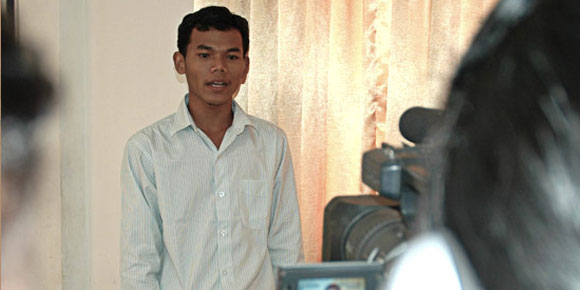 After making a 27-kilometre trip to go to school, Hean Lang spends his evenings teaching English to children in his community when he returns home. And through his teaching, Lang has been able to give a new lease of life to children suffering from cleft lips by helping them to receive free surgery in the capital
More about this health hero

Hean Lang has to make a 27 kilometre trip by bicycle just to go to school. And he makes the most of his education when he returns to his home town in Cambodia's Angkor Thom district, spending his evenings teaching English to children in his community with his friends. Through his teaching, Lang has had the opportunity to give a new lease of life to children with cleft lips by referring them for free treatment in the country's capital, Phnom Penh.

As Lang explains, although children with cleft lips may not face discrimination from their own community, the same cannot be said when they travel to school and meet with children from other communities. "Children with cleft lips are often teased," he says. "Some of them feel very ashamed, and they stop going to school." Some of Lang's own students have cleft lips, and when he heard about free surgery in the capital he was keen to discuss the possibility with his students and their families.

After contacting sisters Buphka and Thory from Plan Cambodia, he spoke with a doctor at the hospital and travelled to the city with sister Thory when she attended a workshop there. "We went to meet the doctor, and he welcomed us to bring the children with cleft lips," says Lang. "I know the hospital and the doctor very well now." So far, 22-year-old Lang has been able to accompany 10 children for the facial surgery. "They are very happy," he says proudly.

The children and their families are deeply grateful to Lang for his help. Kroem Plai, the mother of a young boy with a cleft lip, was always worried about her son's future. "When my son was newly born, my neighbour told me that I should not keep him alive because he had a cleft lip," she says. "Three kids died during that time because their parents did not give them enough care. I tried to feed my son with watery rice porridge to keep him alive."

Kroem had heard about free surgery and made the trip from her village to the town of Siem Reap on three separate occasions. Each time, she was unable to get any information about the free procedure. Thanks to Lang's intervention, however, she was able to travel down to Phnom Penh where her son's lip was successfully repaired for free.

What motivates Lang? "I love all children from the bottom of my heart," he says. "I work with Plan to help children and my community. I do what I can and I am happy that I am able to save children with cleft lips." Lang loves communicating with all sorts of people, and is "very proud" that adult villages appreciate what he is doing for his community. "This keeps me continuing to help others," he adds.

Lang is "not sure" about what the millennium development goals are, but he knows the reality of day-to-day life for Cambodians. "Small children in my area have malaria, diarrhoea and fever," he says. "Some villagers still don't know what they have to do to make sure they have good health." The benefits of good health, however, are there for all to see. "Children don't die young," he says. "They are smart and do well in school."

Lang enjoys what he does, and wants to continue educating children in his area. "I like helping children," he says. "I want to work in my community."