Mamas Otsieditse and Amos, Botswana
Raising awareness in local communities helps ensure life-saving mosquito nets are used correctly.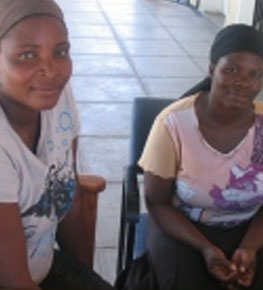 f you are a volunteer health worker in Botswana, you're also a life saver. "Mamas" Otsieditse and Amos volunteer in their local community to raise vital awareness about the life threatening dangers of malaria and how to prevent it. Their efforts are contributing to the country's progress in fighting malaria where deaths from malaria have been cut by 87% in the last decade.

Projects to train and empower volunteers like Mamas Otsieditse and Amos are invaluable. They learnt how to distribute free mosquito nets to families who would not otherwise have been able to afford or access them. They then follow up to double and triple check that families are using their nets in the right way.

After one of her routine home-to home visits Mama Amos said, "Our follow-up visits showed that the nets were hung and were getting used and there were less complaints about itching, which means people heeded our advice and were now using the nets correctly," She adds, "If you tell the community about the benefits of a new innovation they tend to appreciate, understand, and make an effort to practice what is recommended."

Mosquito nets are the first line of defence to stop the spread of malaria and have proven to cut malaria cases by half and the number of child deaths by 20%.

Mamas Otsieditse and Amos are Health Heroes. Show your support.