Miriam Makwembere, Zimbabwe
Youth awareness of HIV/AIDS helps strengthen civil society and sets up a first level of health community volunteers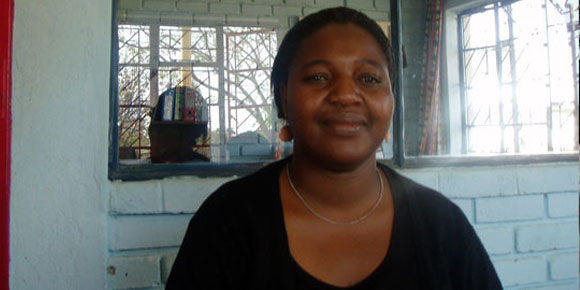 Miriam Makwenbere decided to turn her life around when she realised the corporate career ladder could never lead her to happiness. Now, she spends her days raising awareness of HIV/Aids and counselling those in need of some love and support.
More about this health hero

For many years, Miriam Makwembere wanted more out of life. Initially, she climbed the corporate ladder, working as a secretary. But she soon realised that this was no ticket to stability and happiness. She always knew there was something better she could do with her time; that there was something more in store for her. Miriam wanted to do something more "meaningful". So, she decided to start a course that allowed her to work closely with needy and underprivileged people.

For three days a week, Miriam devotes herself to a hospital in her area, where she volunteers as a counsellor. She counsels people with troubles of every kind: HIV infected and affected, terminally ill, the lonely and depressed patients struggling to overcome inner wounds.

Miriam's encounters with these people taught her that, whatever the problem, people need to be loved, and to be heard. They need someone to help carry their burdens. Miriam is that person. The 40-year-old says it is her "personal mission" to enhance the lives of those she comes into contact with, "by helping them to explore and realise their potential and, most importantly, to courageously address the sources of those problems".

Miriam feels able to identify with the people she works with, and empowers them to refuse to accept defeat "in any situation". Instead, she helps them find their own way through their difficulties. Miriam knows that people facing a crisis – such as diagnosis with HIV – can often feel that they have been "dealt with unfairly". "People sometimes need help to come out of the blame game and take charge of their lives," she says.

Working as a youth development coordinator at Young Africa, Miriam also educates young people about HIV/Aids and teaches them useful life skills. Young people, especially those who are sexually active, now have access to a variety of reproductive health and HIV services that Young Africa provides at its centres.

By training peers in sexual and reproductive health and HIV/Aids awareness, Miriam and her colleagues at Young Africa are able to provide youngsters with the information they need to protect themselves. The peer educators then pass on their knowledge to their peers in the community, and help supervise the health friendly corner that has been set up at the centre.

Does Miriam consider herself a hero? She may be too modest to say yes, but she lives her life according to her own definition of a hero. "The greatest hero in any crisis is the person who does not believe he or she is a champion but is prepared for any challenge," she says.