Nazrul Islam, Bangladesh
The power of prevention: A life dedicated to changing behaviour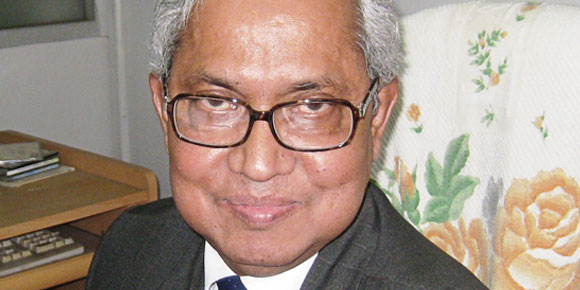 For 30 years, Professor Nazrul Islam has been fighting HIV/Aids in Bangladesh. Armed with his extensive experience, he's convinced it's time to pass the baton on to the next generation as the fight continues.
More about this health hero

"Speak out, let people know." That's the opinion of Professor Nazrul Islam, who is one of those leading the fight against HIV/Aids in Bangladesh. Born in a farmer family with a grandfather practicing herbal medicines, Professor Islam wanted to be an engineer. But his uncle, who practically raised him following his parents' death, suggested one day that "it would be good to have a doctor in the family". He joined the Dhaka Medical College in 1959 and finished his PhD in 1977 from St Thomas Hospital in London. On his return to Bangladesh that year, he joined the Bangabandhu Sheikh Mujib Medical University.

Professor Islam's journey to understand HIV/Aids began in 1981 when he was working as professor of virology. When the first National Aids Committee was formed by the government in 1985, with Professor Islam as member secretary, the question about how to deal with HIV/Aids in Bangladesh remained unanswered. Two years later, in 1987, the World Health Organisation provided HIV/Aids testing kits and Professor Islam and his team tested 14,000 people. Nobody tested positive. The first HIV/AIDS positive case in Bangladesh was identified in 1989.

Over the years, Professor Islam has been involved in projects including Bangladesh Aids preventive control and safe blood transmission, and in the technical committee of the National Aids committee. He was also actively involved in a pilot project with commercial sex workers and hotel-based workers in association with Care Bangladesh.

Professor Islam is now retired, but that doesn't stop him doing the work he loves, sensitising people about HIV/Aids through advocacy. In December 2010, Professor Islam spoke at an event organised by Plan Bangaldesh focusing on adolescents and their understanding of HIV/Aids. He explained and answered all the questions asked of him, by adolescents and adults alike. To him, adolescence is the most crucial time talk about the "how's and why's" of HIV/Aids, because the messages these young people receive will remain with them for life.

The intellect of his three young grand children never fails to surprise Professor Islam. He's sure that it's children like these who will make the world a better place to live – but it's up to us to find the answers to the questions they are asking now. "If the left and the right green arrows of traffic lights are for indicating cars to go left and right, how come the cars don't fly when the upward green arrow lights up?" asked Professor Islam's grandchildren. He's still searching for the right answer.