Salisu Mohammed, Nigeria
Battling infectious diseases through community health programmes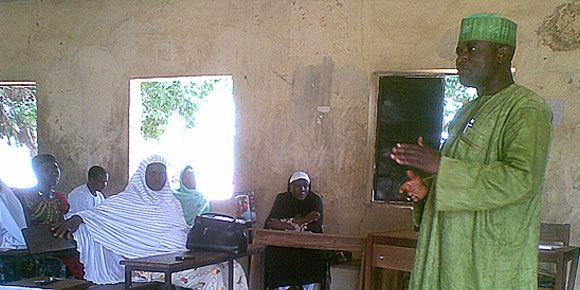 Salisu Mohammed says policy makers must step up their efforts to improve public health if the Millennium Development Goals are to be met. Educating his local community his native Nigeria, Salisu is on hand to help spread the word about malaria prevention.
More about this health hero

Salisu Mohammed is from Maikunkele in the Bosso local government area of Niger state, Nigeria and has been the local councillor for health for two years. He dedicates his time to supporting malaria and other health interventions that are brought to communities by his local government council. He shows an exceptional level of support for malaria activities, as demonstrated by his participation in the long lasting insecticide treated net (LLIN) distribution campaign in his area in December 2009 and role-model care givers project, which focuses on home management of malaria.

Now in his late thirties, Salisu has always been an agent for change, even while growing up. He is married and has children who, despite having suffered episodes of malaria in the past, have been free from any fever for months. This change has occurred since they began using the LLINs they received from the mass distribution in the community.

Salisu was deeply involved with the LLIN mass distribution campaign, helping to raise awareness in households in his community on the importance of obtaining and using the nets to prevent malaria. The community members who used the net and did not show signs of malaria in the months following the distribution frequently showed their appreciation for his efforts. This positive response from the community motivated Salisu to become involved in other malaria interventions as well as wider health campaigns in his community.

In his role, he is mainly responsible for ensuring that health programmes, projects and interventions planned by the local government councils reach the target beneficiaries and have the greatest impact by being sustainable. To this end, he is currently supporting the role-model care givers in his local government area to carry out their functions.

He personally attended the training for role-model care givers on the home management of malaria and expressed how important he and other members of the local government consider the intervention. They believe home management to be a big step forward in reducing the high prevalence of malaria in their communities. Furthermore, he supported the role-model caregivers to carry out house to house visits and encouraged households to put their LLINs to use. Salisu also used this opportunity to highlight the benefits of home management of malaria.

His message to policy makers' on meeting the Millennium Development Goals is that the support to fight malaria should be given a bigger boost to break the cycle of transmission and decrease the mosquito vector population. This is very important to ensure a very healthy and productive nation.

Salisu hopes that his support for the malaria interventions in his communities help will bring a day when no child loses their life to malaria, and that the local government will succeed in achieving its vision of a malaria free future.