Samnang, Cambodia
Investing in health makes good long-term sense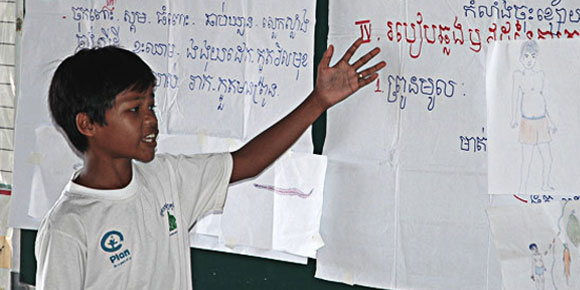 Samnang may be a tender age, but his no-nonsense attitude to good health is making waves in his local community. As a peer educator, he knows that good health and a good future go hand-in-hand, and he now has the confidence to make his message heard.
More about this health hero

In Cambodia's Kampong Cham province, one 13-year-old boy is on a mission to make sure everyone in his village knows the facts about good health. As a peer educator, Samnang shares information which is helping to improve community health, from clean drinking water to the importance of cleaning vegetables carefully and protecting food from flies. As the youngest son in a family of five, Samnang has a no nonsense attitude to health. "Good health, good future," he says matter of factly. "I want all children in my community to have good health," he adds. "When we are not sick we can go to school. For our villagers, if they have good health, they can go to work in the rice field."

He may not know the ins and outs of the millennium development goals, but he knows why good health is important. "If we don't start to improve our health now, we will be sick," says Samnang, whose parents are both farmers. "We cannot go to school and cannot do the farming."

Samnang and his fellow peer educators get villagers attention by staging drama shows, singing songs, showing pictures and read important health messages out to the community. But don't be fooled by his tender years – he's comfortable and confident discussing health issues and is more than capable of making a difference. "Before some villagers didn't want to attend the gathering because they said they did not have time and because we peer educators are children," he says. "I told the villagers that although I am young I can give them helpful information to make them have good health." Now that villagers are on board, Samnang wants policymakers to listen to what he is saying too. "I know I am young, not yet an adult," he says. "But don't mind my age."

Samnang is thirsty for knowledge, and hopes he is able to continue sharing his experience with ever more people, including successive child peer educators. "People will have good health when they know the information, and their family too," he says. How does he feel about what he does? "I am thrilled and proud of myself when people compliment me and follow what I have told them," he says.